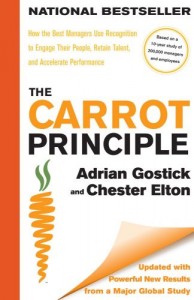 The Carrot Principle
Adrian Gostick and Chester Elton
Since its original publication in 2007, the New York Times Bestseller The Carrot Principle has received rave reviews in The Wall Street Journal, Fortune, and The New York Times, and has helped a host of managers to energize their teams, and companies to dramatically boost their business results. The book was even adopted by the prestigious FranklinCovey International training and consulting group for its leadership training. As the economic downturn requires us all to come up with creative and cost-effective ways to stimulate growth and productivity, Gostick and Elton walk readers through exactly how to use the simple but powerful methods which can be learned easily and will produce immediate results.